XLERATOR Hand Dryers
Features & Benefits

10 Second Dry Time


Adjustable speed and Sound Control


Variable heat - high, Medium, Low and Off


80% Less Energy Tahn Conventional Hand Dryers


95% Cost Savings Vs. Paper Towels


Made in USA Certified


1 Year Limited Warranty


GreenSpec Listed and Helps Qualify for several LEED credits


A Hygenic Hand Drying Solution


Over a Decade of Proven Performance


Virtually Maintenance Free

Options
HEPA Filtration System: Filters 99.97 of bacteria at 0.3 microns from the air stream. 1.1 Noise Reduction Nozzle: Lowers decible Level 9db by reducing air deflection noise but increase dry time by approximately 3 seconds.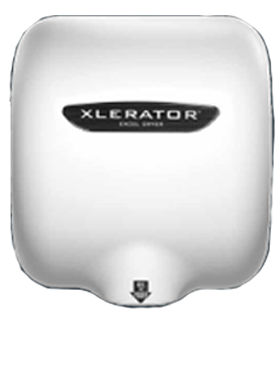 Online Information

Products Videos


Cost Savings & Carbon Footprint Calculator


Life Cycle Assessment Study


Case Studies


3 Part Specification


CAD/BIM Images


AIA/GBCI CEU Courses


Technical Data Sheet

Dimensions

Width 11 3/4" (298mm)


Height 12 11/16" (322mm)


Depth 6 11/16" (179mm)

Weight

XL-BW: 15lbs. (6.8kgs.)


Xl-SB: 16lbs. (7.26 Kgs.)


XL-W,GR,C,SI,Sp: 17 lbs. (7.71 kgs.)

Activation

Automatic Sensor Operated

Mounting

Surface Mounted

Suggested Mounting Heights

Men 45" (114 cm)


Women 43" (109 cm)


Handicapped 37" (94 cm)

Note: Heights Measured from floor to bottom of dryer
Accessories

Anti-Microbial Wall Guards


XChanger Paper Towel Dispenser Retrofir Kit


ADA- Compliant Recess Kit


Width 16 3/8" (416 mm)


Height 26" (660 mm)


Depth 3 3/8" (86 mm)


Weight 11 lbs. (4.99kgs.)

Dry time based on third party testing performed by SGS International on standard XLERATOR hand dryer with 0.8" nozzle to 0.2g or less of residual moisture.
Special Paint poweder-coated covers are available in many colors and textures.
Exclusive digital image technology allows for the addition of company, school or team logos with any color, design or a 'green message'.
Electrical
| | | | | | | |
| --- | --- | --- | --- | --- | --- | --- |
| VOLTS | AMPS | WATTS | NO HEAT AMPS | NO HEAT WATTS | HERTS | |
| 110-120V | 11.3-12.2A | 1240-1450W | 4.3-4.5A | 460-530W | 50/60 Hz | |
| 208-277V | 5.6-6.2A | 1160-1490W | 2.0-2.2A | 425-500W | 50/60 Hz | |
| 230V | 6.1A | 1410W | 2.2A | 500W | 50 Hz | |